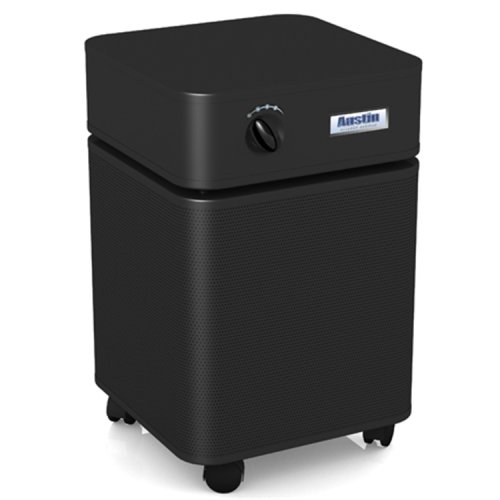 After several months of deliberation, I decided to purchase an Austin Air Allergy Machine for use in my two bedroom apartment.
I have mild allergies, and also have 3 cats, so the notion of using an air purifier is something that has been on my mind for quite some time. I often would wake up in the middle of the night with a stuff nose and sneezing, and all that other good stuff that goes along with that.
While researching air purifiers that would be effective in a 2 bedroom apartment I continually ran across Austin Air, and I like the look of their machines. I narrowed my search down to the Austin Air Allergy Machine and the Austin Air Pet Machine.
They both looked similar, so I emailed Austin Air to ask which might be better for my situation. I received a response from a customer service rep quite quickly, and she let me know that the allergy machine would probably be more effective for my situation.
Deciding to get the Allergy Machine
After deciding that I was going to get the Allergy Machine, I ended up ordering the item from a merchant through Amazon.com.
I received it in about 3 days, it showed up really quickly. The box was big and the unit was in perfect condition. I unpacked the machine and let the cats play in the huge box.
After unpacking, I read the instructions and found that this was a rather simple machine to put into use. I basically just had to plug it in and let it rip, right out of the box. That was pretty easy.
This air purifier won't need to have the filter replaced for quite some time, so I won't have to worry about taking it apart for any reason any time soon.
What types of features does it have?
The Austin Air Allergy Machine is a pretty straightforward air purifier.
It has a dial on the front of the unit to activate 3 different air circulation speeds: low, medium and high. And that's it.
Simple controls on this machine
There are no other options, no electronics. It's just a basic machine with state of the art filtration capabilities.
This is exactly why I bought it. I felt that because it was a high-quality filtration unit with little electronic overhead that it would probably be a good "bang for the buck" purifier, and I was correct. I paid very little for this unit considering how capable it is of cleaning the air inside my apartment.
When I turn it on the lowest setting, it is pretty quiet. On the lowest setting, it will not interfere with sleep if you need a quite atmosphere.
On the medium setting, the Austin Air Allergy machine starts to make a little more noise, but it's more just fan noise rather than mechanical noise. It's not that loud really, especially considering the amount of air that you can feel going through the unit.
On the highest setting, this thing cycles a LOT of air. It's also pretty loud. I tend to only turn this unit onto the highest setting either if I'm not in the same room that the unit is in, or if it's an emergency air clearing situation.
For example, I'll put the Allergy Machine in my bedroom on the highest setting for about a half hour before I go to bed. That gives the unit a chance to cycle the air heavily for a decent period of time. Then when I go to bed I turn the dial to medium or low.
Technical Specs?
As far as actual numbers, here's a few bits of info I grabbed from the Austin Air web site.
FAN/MOTOR ASSEMBLY
Centrifugal fan
3-speed control switch
PSC motor
Power -1.1 amp
135 watts at highest setting
CSA, NRTL and CE approved
HOUSING CONSTRUCTION
22 gauge steel
Powder coating paint finish
360 degree intake
DIRECTIONAL AIR FLOW
Austin Air's directional air flow allows you to direct air into breathing area where you stand, sit or sleep.
DIMENSIONS
Height:23 inches
Width:14.5 x 14.5 inches
Weight:45 pounds
It also has a 4 stage filter
STAGE 1 – Large Particle Pre-filter
Removes particles easily seen by the eye (e.g.dust, hair and pet dander)
STAGE 2 – Medium Particle Pre-filter
Removes small to medium size particles (e.g.molds, spores and pollen)
STAGE 3 – 60 sq.ft.of Certified HEPA
Removes 99.97% of all particles larger than 0.3 microns
STAGE 4 – HEGA Carbon Cloth
Removes chemicals, gases and odors (e.g.sulfuric acid and ammonia)
Some more details
And it also comes with a 5 year mechanical warranty and filter warranty. It's amazing that the filter will probably last me about 5 years, unless I abuse it somehow. The warranty covers normal use. Basically, if you use this to clear thick smoke or use this thing to clear out the air in a heavily abused workshop on a consistent basis, it might be hard to justify getting the filter replaced via warranty.
Overall I'm pretty happy with this machine. My allergies are noticeably less annoying and it's actually kinda weird to wake up in the morning with a clear nose. Just as long as I give this air purifier a chance to clear the air properly and consistently, it does a good job of helping me keep allergies under control.