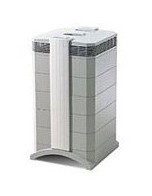 The IQAir HealthPro Plus HEPA Air Purifier boasts of a H12/13 class certified HEPA filter. And with its 4 advanced filtration technologies, it can eliminate particles down to 0.01 microns with almost 99 percent efficiency. Your room is also sure to be kept free from unpleasant odors, thanks to its V5-Cell gas phase filter.
This unit can run efficiently in rooms up to 1,000 square feet (based on maximum fan speed and an 8.5 foot ceiling). Aside from keeping the air free from harmful micro-particles, this unit also provides pelletized chemisorption – which destroys harmful chemicals, such as formaldehyde, through an oxidation process inside a chemically active alumina pellet.
IQAir HealthPro Plus HEPA Air Purifier Features
4-key touch-pad with 32-character display

Non-offgasing, impact-resistant, UV-stabilized housing

Gets rid of particles down to 0.01 microns with close to 99 percent efficiency

Comes with a large-capacity pre-filter

V5-Cell wide-spectrum gas and odor filter

HyperHEPA cleanroom-grade high-efficiency particulate arresting filter

6 speed settings
The Reviews
To date, there are only 7 customer reviews for this product on Amazon.com and all of them are positive.
Although all the reviewers have given high ratings for this product, they do have a few issues with it:
Quite loud – Most Amazon users have mentioned that this air purifier isn't very quiet and is not advisable for use in bedrooms. But since it does a great job of removing allergens and odors, they are willing to overlook this flaw.
Housing doesn't seem to be very durable – Some customers also thought the housing for this air purifier doesn't look very sturdy. They feel that this unit has to be handled with great care. Then again, as mentioned earlier, this product's high efficiency makes up for these minor issues.
When it came to positive reviews, here are what satisfied customers had to say:
Great results – According to users, the filters on this unit look really well-constructed and effective. They love how clean the air smells and feels whenever they use this in the room.

Excellent customer service – Amazon customers were also pleased with IQAir's customer service. Agents were easy to talk to and replacements were delivered in a timely manner.

Decreased allergy symptoms – Reviewers who are allergy sufferers claim that this unit really helped in significantly reducing their allergy attacks.

Easy portability – Although it looks big, Amazon users were delighted to find that this unit is actually quite lightweight and easy to move around, even without casters.
This product has only garnered 7 customer reviews, but so far, so good. Everyone seems very pleased with its performance. According to reviewers, it really works as advertised. The HEPA filter is truly high-grade since it efficiently removes odors and particles in almost no time.
Customers admit though that this unit can get pretty loud. But with its stellar performance, they are more than happy to keep it inspite of its noisiness.
Update:
We checked out some of the more recent comments and have this to add:
The Air Cleaner had a total of fifty-two Amazon reviews that gave it an average overall rating of four out of five stars.
The most helpful critical review gave the unit a rating of two out of five stars. The unit got stuck on high after approximately one week of use; after an additional week the unit returned to proper working order. The castors broke easily and the power cord would come out of the unit. At higher speeds the unit was rather noisy. The unit put off a funny smell. The attention that the reviewer got from customer service regarding the unit's problems was not satisfactory to the reviewer.
The most helpful positive review gave the unit a rating of five out of five stars. The secure packing of the unit was a plus to the reviewer who found it was extremely clean and pleasant to look at right out of the box. The fact that the manual that came with the unit was simple to follow and understand was a positive for the reviewer. The unit was found to be sturdy and heavy although the handle and casters were a plus to the reviewer since they made the unit easier to move. It was only a minor annoyance that they unit was louder on a higher setting. The reviewer had a child allergies and found that the unit relieved there symptoms. The air smells fresher with the use of the unit and the odor filter only has to be changed once a year.
The fact that the majority of reviewers were satisfied, the ability to remove odors from the air and improve conditions that can lead to allergic reactions make the unit an investment worth making. The Air Cleaner is definitely one that we can recommend to consumers that need to reduce allergy symptoms, remove odors and particles that lead to them; this unit is a sound investment that can save you money on future doctor's visits by decreasing the chances of ending up having to go to the doctor because you are sick.