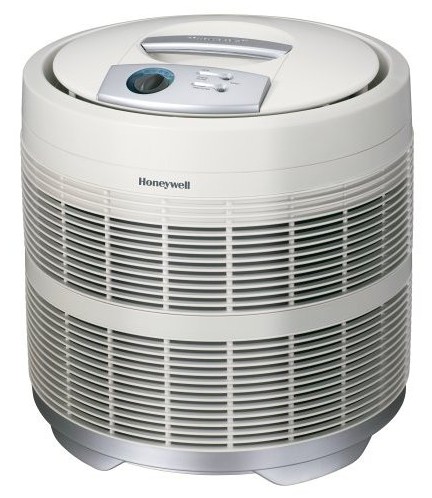 The Honeywell Round HEPA Air Purifier (Model 50250) is ideal for large rooms up to 390 square feet in size. It is able to eliminate up to 99.97 percent of common airborne pollutants, thanks to its true HEPA filter. The glass-fiber HEPA material is effective in getting rid of viruses, bacteria, and other airborne particles.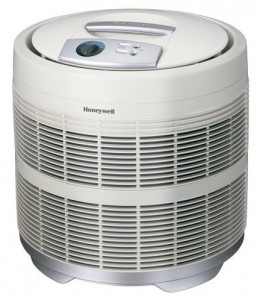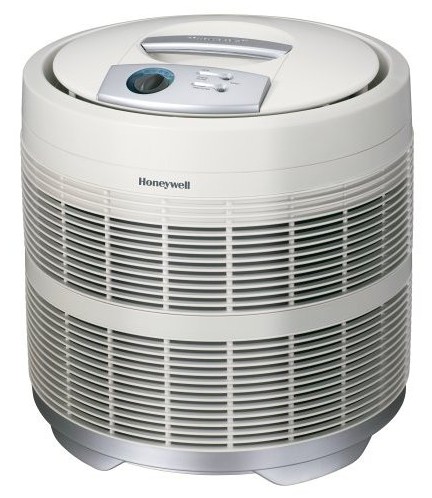 This air purifier has 3 speeds, 360-degree airflow, and a carbon pre-filter. All these features make this product an excellent companion for those suffering from asthma or allergies. The Honeywell 50250 is especially fantastic for homes with pets (since it effectively removes pet dander from the air too). This product comes with a 5-year limited warranty.
Honeywell Round HEPA Air Purifier Features
Comes with a true HEPA filter
Glass-fiber HEPA material
SurroundSeal HEPA filter technology
360-degree airflow
3 speeds
Carbon pre-filter
Intelli-check electronic filter change indicator
The Reviews
So far, this product has collected 315 customer reviews on Amazon.com.  Majority of the reviews are positive, with most customers praising this air purifier for its efficiency and easy maintenance.
However, there were some customers who weren't so happy with the Honeywell 50250. Here are some of their comments:
Quite noisy – While most reviewers agree that this air purifier does a good job of improving air quality, they wish it could operate more quietly. Even at its lowest setting, it still emits a certain sound that some reviewers find a bit annoying.
Funny smell – A number of Amazon users also report that the Honeywell 50250 sometimes gives off an unpleasant odor, especially during the first few uses. But it usually disappears over time.
Not ideal for bedroom use – Customers were dismayed to find out that this unit is not great for bedrooms. As mentioned earlier, it is quite noisy and the lights on the controls can be quite distracting when trying to sleep in a dark room.
If we take a look at the positive comments, here are a few things satisfied customers had to say:
Convenient features – Most customers agree that the Honeywell 50250 is easy to use and easy to maintain. The Intelli-check feature, for example, takes the guesswork out of figuring out when to change filters.
Decreased allergy symptoms – Reviewers who have allergies, asthma, and other similar conditions report that they have been breathing easier and experiencing fewer allergy episodes since using this product.
Effectively removes odors – Amazon users have also noticed that rooms simply smell fresher after using this purifier in just a matter of days.
Solid construction – Customers are happy with the Honeywell 50250's sturdy build. It looks durable enough to last for years and with its solid and stable design, you won't have to worry about overly energetic pets bumping into it and tipping it over.
Based on all the reviews, the Honeywall 50250 does have its faults.
It is quite noisy and it can sometimes give off an odd smell. But majority of Amazon reviewers think the pros of using this product definitely outweigh the cons. It is efficient at improving air quality and maintenance is relatively easy.