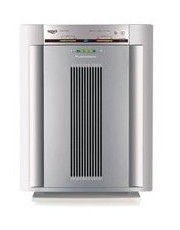 The Winix PlasmaWave 5300 Air Cleaner Model gets rid of indoor pollutants and odors with its 3-stage air-cleaning action. According to the manufacturer, this product is also environment-friendly since it emits no ozone or harmful by-products. It also has a clever built-in air quality sensor that automatically adjusts fan speed according to the level of dust or allergens detected in the air.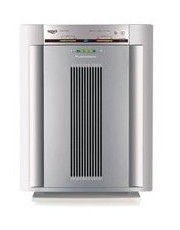 This energy-star approved device is great for rooms up to 350 square feet. Not only does it eliminate dust, animal dander, and allergens in the air, it effectively removes unpleasant odors too. It operates silently and its HEPA filter removes 99.97 percent of particles as small as 0.3 microns in size. This product is also backed by a 1-year limited warranty.
Winix PlasmaWave 5300 Air Cleaner Model Features
Comes with a carbon pre-filter
Includes a plasma generator
No ozone or harmful by-products produced
User-friendly design
Built-in air quality sensor
Ideal for rooms up to 350 square feet
Energy Star approved
The Reviews
To date, the Winix PlasmaWave 5300 Air Cleaner Model has gathered 95 customer reviews on Amazon.com. A large chunk of reviews are positive, with most customers praising the unit for being effective in helping to reduce allergy symptoms.
Of course, every product has its own share of critics. There were 9 Amazon customers who gave this model a rating below 4 stars. Here are some of the issues they raised:
Not very impressive – Some Amazon reviewers felt that this product did not deserve all the hype surrounding it. They say it does a decent job, but they have used other air purifying units in the past that were much more effective.
Health concerns – There were a couple of Amazon users who accused Winix of false advertising and claimed that this air purifier actually emits harmful by-products such as chemical fumes which could cause health problems in the long run.
On the bright side, there were definitely a lot more positive reviews for the Winix PlasmaWave. Here are the things that made this air purifier a hit for happy customers.
Reduced allergy symptoms – Most customers love that this unit was able to effectively decrease their allergy attacks. Symptoms of coughing, sneezing, watery eyes, and colds seem to have magically almost disappeared within a few days of using this product.
Relatively quiet operation – Reviewers note that turning on the PlasmaWave feature gives off some noise, but not exactly at an unbearable level. Its lower settings, however, are wonderfully quiet.
Lightweight – Amazon users were also pleased that this unit is lightweight. It could easily be transported from room to room.
Well-built – Most consumers were also satisfied with the solid construction of this unit. They trust its strength and durability.
If we look at the numbers, there are definitely more positive reviews for the Winix PlasmaWave 5300 Air Cleaner Model than negative ones.
Some customers were not exactly very impressed with the product, but majority of users agree that it performs in areas that matter—it is able to purify the air and reduce the amount of allergens present. However, there were a few customers who claim that this unit possibly emits harmful chemical fumes. Indeed, this is something that one should look into before deciding to purchase this product.