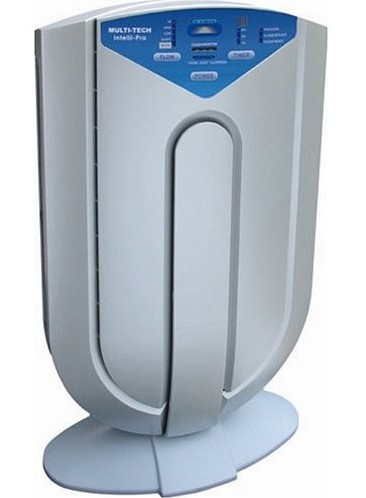 The Surround Air XJ-3800 Intelli-Pro Air Purifier has a smart sensor technology that intuitively keeps track of air quality, checks on the performance of its filters/components, and lets you know when it's time for filter replacements. It also has a "quiet" setting that makes it ideal for use in bedrooms.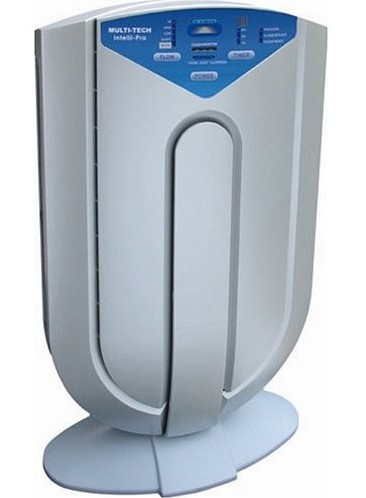 What gives this air purifier an edge is its very thorough filtration system. While most traditional air purifiers use 2 or 3 filters, the Surround Air XJ-3800 Intelli-Pro Air Purifier uses 7 types of filtration: a UV lamp to kill germs, an ionizer, an activated carbon filter to eliminate odors, a photocatalytic (TiO2) filter, an electrostatic dust collector, a washable pre-filter, and a HEPA filter.
Surround Air XJ-3800 Intelli-Pro Air Purifier Features
Sensor Technology that monitors system performance and air quality
7 air-filtering technologies
Eliminates cigarette smoke, allergens, bacteria, chemicals, and more
Quiet mode for noise-free operation
Comes with a 30-day risk-free trial and a 3-year warranty
Includes a germicidal UV lamp
With ionizer
The Reviews
The Surround Air XJ-3800 has only had 95 customer reviews on Amazon.com so far. Majority of the reviews gave high ratings, praising the product for its efficiency and quiet operation.
But of course, not everyone was impressed with this model. The 17 reviewers who gave ratings below 4 stars had the following things to say:
Can't get rid of strong odors – Some customers have noticed that the Surround Air XJ-3800 can easily remove faint odors in the air, but it seems to have difficulty removing stronger scents such as those of tobacco smoke.
Flimsy parts – A number of reviewers also felt that most of the parts on this unit seem to be made out of cheap plastic and are not very durable.
Sensor not as sensitive as expected – Amazon users compared this model to previous units they have owned and reported that the sensor on the Surround Air XJ-3800 is not as intuitive as they had hoped.
There were plenty of positive reviews for this product and here are some of the qualities Amazon customers liked about this unit:
Quiet operation – The Surround Air XJ-3800 doesn't make too much noise during use, making it great for bedrooms and home offices.
Decreased allergy symptoms – Allergy sufferers who bought this product report that, although it did not completely get rid of their allergies, they have experienced fewer allergy attacks since using this air purifier.
Lightweight – Reviewers also like that the unit is relatively easy to move from one room to another. It is also not too bulky, which makes it great for hiding in corners if you want the machine to be partially hidden from view.
Less dust – Amazon users are also happy that this air purifier noticeably reduces dust. Not only is the air quality improved, the house is easier to clean as well.
Generally, the Surround Air XJ-3800 has a lot more positive reviews than negative ones.
Sure there are complaints about the unit not being able to handle strong odors and the sensor not being perfectly sensitive all the time, but most Amazon customers agree that it does a good job where it counts –purifying the air and reducing allergens.